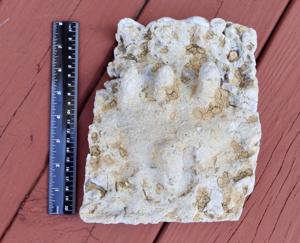 ANDREW SHURTLEFF | The (Charlottesville) Daily Progress
A ruler shows the size of a paw print cast by Albemarle County farm owner Ed Creasy who believes it was a panther track. Photo/The Daily Progress/Andrew Shurtleff
Posted: Sunday, August 31, 2014 6:25 pm
By Bryan Mckenzie The (Charlottesville) Daily Progress
A funny thing happened while Tim Bennett weed-whacked on a Scottsville farm two weeks ago: a big black cat crossed his path.
It was a really big black cat.
"He was all black, had a round face and long, black tail," said Bennett, a seasoned woodsman who runs a landscaping business near Scottsville.
Bennett is pretty sure the cat was a black cougar, the elusive cousin of the elusive mountain lion that has been reported in a variety of Virginia mountain counties but has yet to be proven to exist.
Cougar sightings are commonplace with the big cats having been reported everywhere from Lynchburg and Bath County on to Rockingham County. Cougars themselves, however, are not as commonplace as their sightings.