Forest officials had ignored warning that relocating animal who had lost fear of humans was a dangerous and misguided conservation strategy
Monday 29 December 2014 11.16 GMT
A tiger released in a wildlife sanctuary in south
India
has been shot dead on Sunday after it killed a woman.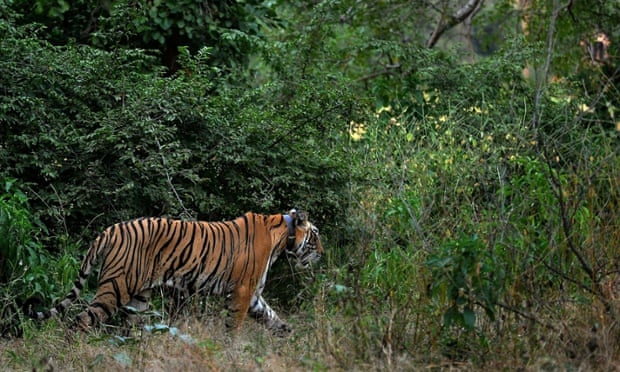 The animal was released in Bhimgad wildlife sanctuary, Karnataka, on 19 November. The young tiger, suspected to have killed a woman in Pandaravalli village 186 miles away, was caught and released in the sanctuary. A large contingent of forest officials camped at Bhimgad to ensure it didn't trouble villagers and also protect the tiger from people. Officials said the tiger did not pose a threat to human life. But tiger biologist Ullas Karanth had warned it was not safe to release the animal as it seemed to have lost fear of humans.
Despite the number of people keeping a watch on the tiger's activity and the GPS transmitter around its neck, it remained elusive. The transmitter stopped functioning soon after the animal's release, and tracking the animal using the backup VHF radio transmitter in hilly dense forests was difficult.